Dr. Stephen Kiesewetter, managing partner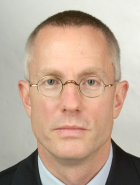 Dr. Stephen Kiesewetter acquired a PhD in mechanical/industrial engineering at RWTH Aachen University, where he also completed his undergraduate studies. After gaining extensive experience over a number of years in line management, he founded Dr. Kiesewetter Consulting GmbH (DKC) in Cologne in 1993. Its success is based on the CTD®-method which extends beyond the planning of optimization measures to include realization. Dr. Stephen Kiesewetter's succinct summary of each project:
We assume responsibility of the project from analysis to realization.